Isn't there some saying about the pot calling the kettle black? I never about anybody complaining about lost jobs in Massachusetts, but guess who is at the helm of the worst economic "recovery" ever?????? It's Obama. Ech, what an awful campaign.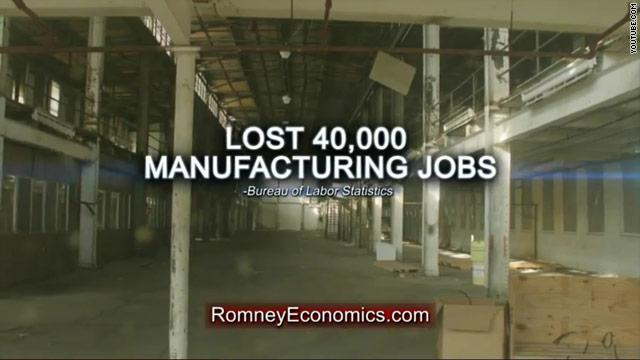 June 6th, 2012
03:36 PM ET
7 days ago
Washington (CNN) - President Barack Obama's re-election campaign is spending more than $12 million on its ad hitting Mitt Romney's record as governor of Massachusetts, according to a Republican ad buying source.
The
one minute commercial
, which started airing Tuesday in 10 battleground states, criticizes Romney for having "one of the worst economic records in the country."
– Follow the Ticker on Twitter: @PoliticalTicker
Team Obama has intensified its attacks on Romney's term as governor in the last week pointing out the state lost 40,000 manufacturing jobs and averaged 47th in the nation in job creation.