Steven Powell, Father, Mentor, Criminal Mastermind?
Susan Cox Powell Case
[
Demons and Saints: Murder of Susan Cox Powell Family
|
Demons and Saints Cast of Characters
]
update 12/7/2018
The big question shouldn't just be why didn't they arrest Josh Powell for the murder of Susan Cox Powell. The bigger question now is why they don't authorities in Washington charge Steven Powell who is still in jail for his role in the murder, instead of just charging him with voyeurism which has a relatively short jail time penalty?? West Valley is worthless and will never got after Steve, but what is Pierce County's excuse?
About Steven Powell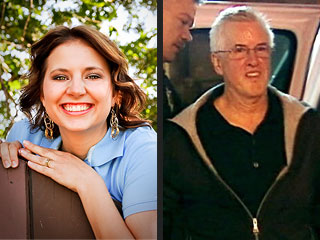 http://www.people.com/people/article/0,,20531025,00.html
"
Steve is far more than a common voyeur; his sense of sexual entitlement and contempt for women contributed to homicides in two generations of Powells. It is a testament to how much ruin one man can visit on his own family." Times Tribune editorial 2012
"It's a game to him, It's a testament to the control he has. He's not broken. You would think he would be an emotional wreck. But he smiled; he smirked in his arrest photos. It's all a game of 'You can't catch me.' " Acquaintance in Salt Lake Tribune
The focus on Susan Powell's disappearance has been on Josh Powell, who is now dead. But the roots of the disappearance / murder case lie in Steven Powell is the father of Josh Powell. Susan's father Chuck Cox and many internet netizens have publically stated he believes that Steven has knowledge of and possibly helped Josh commit and cover up the murder of Susan Powell. An acquaintance even wondered if Steven was really a criminal mastermind, as some have speculated that Steven, not Josh was the true mastermind of the disappearance and murder. The Salt Lake Tribune characterized his public image as an
intense, abrasive persona widely showcased in the national media. His story as well as Josh has been the subject of national scrutiny on newpapers, blogs (such as this one) , newsboards and television news specials.
Kirk Graves stated
"Steve knows everything by now and has chosen to help cover it up. Whether he was involved before and during the fact, I'm not sure"
Yet Steven was never officially named a person of interest (only Josh), nor has he been sued, named as a suspect or charged in this case, and no official has made any public statement that Steven was a co-conspirator in the disappearance.
In my opinon, he is a co-conspirator in a murder case, and he should be investigated and charged with such. It is a crime that authorities have only gone after him for voyeurism charges which have only a slight penalty. Steven Powell's children Alina and Michael continue the atrocity of the murder, disrespecting the dead and defending the obviously guilty with an internet and video disinformation campaign to discredit Susan and her family and authorities with legal reprisal from either the Cox family or authorities.
He has not been cooperative with police who have admitted that he is unofficially a person of interest. Steven has offered elaborate disinformation stories that Susan ran off to Brazil with another missing man which indicate he may be covering up for his own plot rather than simply trying to protect his son. He has been charged with child pornography (thrown out by judge) and convicted of voyerism. He has invoked the fifth amendment and refuses to provide any more information.
There is much evidence of Stevens involvement in the disappearance / murder and coverup disinformation campaing.

Steven was seen with Josh hiking in the Topaz mountains just 3 months before the disappearance.

Phone records show he conversed with Josh shortly before Susan disappeared. Steven then called in sick the 2 days after Susan went missing after telling one witness he was planning to go camping with Josh and his small boys. This coincided with Josh Powell driving a rented car over 800 miles.

[3]

Steve Powell skipped work a day after Susan disappeared. He made many public statements against Susan after her disappearance.
Steven has publically stated that he was infatuated with Susan Powell, and kept his own
extensive diary, as well as stock of photos and videos of his neighbor's girls in various states of undress, as well as inappropriate photos of Susan pasted on photos of other women.
Kidnapped in Childhoold By Fueding Parents
Steven was born in Portland, Oregon about 1950. (62 years old in May 2012)
Divorce papers and Steve's website document that Steven was "victim of parental kidnapping," as a young boy, making Terri "fearful that he may try to take our two youngest children."
Website biography Steven's mother "made a unilateral and secretive decision to separate from my dad," and took her children as she left Steven's father, him, his brother and his sister to live in Ohio.
A few months later she reconciled and returned to Steven's father in Portland.
Then at 7 "my dad made a unilateral and secretive decision to separate from my mom." Steven's father took the boy and
and siblings to live with his grandparents who had moved to Coeur d'Alene, Idaho away from his mother who was away visiting a sister. Steve wrote "
They all then proceeded north on Highway 1 and something seemed amiss to me, even at 7 years old. 'Where is Momma?' I asked. Grandma curtly replied, 'You're never going to see your mother again,'
"My older brother, my sister and I were inconsolable."
Steve wrote he once told friends his grandparents had kidnapped him. He wrote that his grandmother told him to keep his mouth shut, then poured cayenne pepper on his tongue to emphasize the point.
Converted to Mormonism
There is no record of Stevens parents bringing him up on a religion. As he grew up, Steven converted to the Church of Jesus Christ of Latter-day Saints (Mormons)
He faithfully served a 2 year LDS mission to Argentina
Steven met Terrica "Terri" Martin at church. They dated starting in 1973.
When Steven proposed, John Martin, father objected, but the Mormon bishop ruled the decision was up to Terri. They were married in a Mormon Temple like Josh and Susan when Steven was 24 and Terri 18. They settled in Verndale, Washington, a suburb of Spokane near the Idaho border just a short hop west of Cour d'Alene on Interstate 90. It is a town so small that it is not even listed on Google maps. Neighbor Don Clifton remembers "w
hen Steve married Terri, it was obvious he was crazy about her." "As a young man, we remember Steve as being an enthusiastic, friendly, clean-living person.".
Terri said Steven was a good husband at first in 1992 divorce paper: "Steve worked hard, served God and loved me. He was very thoughtful, very devoted towards me," "We attended church together".
"He was fun to be around. He was outgoing and people all around were drawn to him. He had a beautiful singing voice and sung on many occasions for weddings, funerals, and church meetings" (sltrib)
Date: Year 1974
The couple was overjoyed at the birth of their first child, daughter Jennifer in 1974. The couple toted Jenny around town "always adoring her and happy to show off their big-eyed, beautiful baby," Don Clifton said. (sltrib) Jennifer would later break away from the influence of her father and side with Susan Cox family after her disappearance.
When neighbors the Cliftons bought an expensive sewing machine, they were surprised that Steven splurged for a similar one.
According to Clifton, first worked in real estate when he married Terri then he become a furniture salesman.
Steven a long-term furniture salesman.
Steven was able to maintain a steady job with a California-based Virco Manufacturing, a furniture company as a delivery driver
Terri started suspecting things just within a couple of years of getting married... believed it was her husband's heavy travel schedule through his work that gave him an outlet to dive deeper into pornography.
Michael in 1982
Steve Leaves LDS Church
Court papers noted that during Josh Powell's teen years, he noted his father dropped out of the LDS faith which caused a severe marital rift that led to divorce.
Salt Lake Tribune links Steve's leaving to and end to the couples marital bliss.
Terri: "Over the past few years I have seen Steve change from a loving and kind person to a person seemingly filled with darkness and hatred, whose respect for others and for basic and social moral values has been abandoned for a path of self-gratification that leads not only himself but his children in a direction that is not only not healthy but does not recognize basic social skills that are needed to function in society,"
Terri's brother, Jim Martin, wrote in court documents.
Martin, who worked with Steve at Virco Manufacturing at the time, described Steve as increasingly "condescending, belligerent, intolerant and dogmatic"
Anti-government, White Separatist sympathy
Another Verndale resident James Fox noted that Steve clung to extreme anti-government views.
"He told me numerous times that the entire government is totally corrupt and the 'feds,' as he would put it, were deceiving the American public and that they were trying to get him," Steven wrote letters to the local paper in support of white separatist Randy Weaver and his 1992 standoff with the FBI at Ruby Ridge in Idaho.
Date: Year 1984:
Terri said her husband asked her, "What would you think if I got another wife?"
John Martin recalled his daughter confiding that Steve had asked her how she felt about the possibility of him taking a second wife, and that she'd stumbled across a journal Steve kept filled with sexual fantasies about a woman they both knew.
Date: Mid 1980s:
Pornography and abuse
Steve and Josh accused the Cox family of inflicting child abuse on Susan. Yet Jennifer
Graves remembers that Steven severely punished his children by forcing them to lie in a bath of ice-cold water up to their necks if the wet their beds. When Steven tried to forcibly remove a chair from Terri's house, Steven "pulled her hair back and hit her" as they argued.
Jennifer Graves: "I think pornography played a big role in tearing our family apart, because it breaks down your mind, it breaks down families, it breaks down trust. It's going to lead to other things."
...she knew pornography was a problem by 10 or 12, traveling on a business trip with her father and stopping for the night at a hotel saw father watching porn on TV..magazines were kept in Steven Powell's home office, which he either gave to his sons or they found on their own
"And then it got worse and the addiction got worse and then he started to have additional things that he was unfaithful to my mom with, like having this obsession with a woman in our ward," Graves recalled. "It just led down this path that he just refused to recognize as wrong."
During Steven and Terri Powell's divorce proceedings, it was suggested that Steven was in love with a woman in his church congregation and wanted her to become his second wife. He allegedly said he was having "fantasies about her all the time," according to Terri's sister, Becky Mulcahy, in divorce documents.
Terri noted herself in divorce papers that while she was pregnant with Alina, she found Steven's diary, which "was a record of two years worth of explicit fantasies he had about a woman we both knew. … His writings were detailed descriptions of what he would like to be doing with her, particularly sexually."
Steven Powell hinted that something horrible might happen to the womans husband. He wrote in his own diary that he wanted to marry the woman and raise her children should anything happen to the woman's husband, Terri Powell said in divorce papers.
Date: Year 1992
Divorced from Terrica Powell 1992.
(Josh was 16) "Steve has long kept hard-core porno hidden in our house. Steve also visits adult porno shops." She also claimed that Steven had made comments like, "People are just like animals anyway, we ought to be able to have sex with anyone, anytime we please.
Terri Powell says Steve was controlling: "he seems to have a powerful way of controlling..persuasive in a most harmful, deliberate way," she wrote. "Steve's manipulation of the kids' thoughts and emotions is terribly difficult to deal with."
Petition for Divorce Filed
The Powells' petition for divorce was filed in October of 1992.
D
ivorce decree issued in December of 1994
Financial issues continued in the case through 2003.
The boys lived with their father, the girls lived with Terrica. Alina now lives with Steven Powell before his arrest and still defends him.
Date: November 1992
Steven in Brawl To Get Court Documents From Terri
Jennifer Graves journal records November 1992 that Steven and the boys ganged up to take away an envelope of legal documents. Terri screamed for help and Jennifer was so alarmed that she called 911 for help.
Date: Year 1993
Steve transferred to Puyallup (after the divorce?) when Josh was 17 (
1976+17=1993?)
In 1993,
Alina Brings Back Porn Magazine From Steve's House in Backpack
Terri was concerned for the safety of her children when Alina Powell, returned from a Christmas visit from Steven's house. She found a a pornographic magazine in her backpack.
"When I asked Alina about it, this is what she said: 'I laid down on my bed in dad's room and felt something under my pillow. It was that magazine. I was upset when I saw what it was, and I didn't want anyone to see me with it, so I shoved it in my backpack. I hoped I could throw it away before anyone saw it.' "
Date: Year 2001
Still looking for those notes of what Steve was doing at Josh and Susan's wedding
Steve becomes obsessed with Susan
http://www.examiner.com/missing-pers...her-father-law
(snip)
for about a decade steve powell told julia that he had been in love with and obsessed with susan.
"susan was the focal point of the songs he wrote and that are posted on the steve chantrey website. Those are but a few of the many more songs written about susan," julia said.
"he is pining for a love he never could have," she said.
"steve was very proud of his stash of porn magazines he kept in a locked cabinet in his bedroom. He showed them to me when he lived at his previous puyallup home," julia said.
Last fall julia said steve boasted that he still had the pair of susan's very sacred mormon temple garment underwear that he stole from the dirty laundry when she and josh lived at his house at the beginning of their marriage.
"not only did he stash her underwear in his locked bedroom cabinet, he said he stashed her pictures, journals, and porn in there too," julia said.
Date: Year 2004
Josh and Susan move to West Valley near Josh's mother Terrica partly to get away from Steven in whose house they lived in. They meet Jennifer Graves who befriends Susan and learns that that

her dad sought a romantic relationship and even suggested that Josh "share" her.
Date: August 1994
Jennifer married her husband Kirk Graves Aug. 5, 1994. It is the LDS temple in Portland which is where where Susan and Josh were also later married. Steven was specifically asked not to attend, but he showed up despite the disinvitation. They moved to West Jordan
Utah, near Terrica.
Date: December 1994
Powell d
ivorce decree is issued in December of 1994
Performs as a musician under the name of Steve Chantrey. Wrote songs inspired by his infatuation with Susan.
2006: takes
photographs of neighbors in bathroom girls were 8 and 10 yearsold
Date: Year 2009
Before Susan disappearance / murder Susan noticed Josh and father would often talk for hours on phone, then Susan felt that Josh would typically be mean or angry with her.
Date: December 2009
Was Steven the Mastermind?
Steven's influence over his Josh leads Cox family to believe Steven knows and had something to do with Susan's disappearance. "Josh planned all kinds of stuff and researched lots of stuff, but he never did anything. That was his problem. He very seldom took action without being motivated or directed or coaxed into actually physically taking action on anything," Chuck Cox said.
Six weeks after Susan vanished, Jennifer Graves flew to Puyallup to confront Josh at Steven's house in person. But while Josh was silent, Steven lashed out in anger. "Oh, it wasn't good. At one point he let out this string of swear words. And my husband was there with me, and holding it together pretty well. And we knew going in that it was probably going to be tense because I went in there for that reason," (
Deseret News:
Sins of the father: Steven Powell's behavior leaves a legacy of harm
)
Date: Year 2011
Shortly before his arrest, Steve maintained that Steve and Susan had mutual feelings.

"Susan and I were very close, and we were very close up to the end," Steve said shortly before his arrest. "They've tried to portray Susan as being offended by me and being afraid of me and that is not the case. There are just misunderstandings about how Susan felt about me. Susan never let me forget that she was a woman. But she was also a beautiful daughter to me."
Steven's home was searched in 2011 in connection to Susan's disappearance looking for Susan's childhood journals that Steve had bragged he had in his possession and threatened to publish. While there, the police found pictures and videos on his computer in Steve's bedroom. These included pictures he had taken of himself pleasuring himself to a picture of Susan, and he had pasted Susan's face onto pictures of unclothed women.
Charlie and Braden, were subsequently removed from the Puyallup home. Concern about a graphic poster of a woman found inside the home with a knife sticking through her. Steven told media seized pictures and videos taken would be considered "inappropriate for a married woman and her father-in-law" and suggested there was a flirtatious relationship with Susan
Steven was fired from his job at the Washington Department of Corrections as a delivery driver after his arrest
in 2011
"A staunch group of close family members say Steve will be cleared on charges related to voyeurism and pornography for surreptitiously filming girls as young as 8."
Steven's Children and Family Backs His Innocence
Steve's children, except Jennifer Graves, have rallied behind him as he prepares for trial. On a website created in January that since has been taken down, Michael Powell wrote he didn't believe law enforcement had evidence to support voyeurism charges against his father. Alina Powell claims evidence against her father has been fabricated.
Steve's niece, Nicki Cardenas still backs him up, as well as Steve's sister, Patty Leach and other relatives. Cardenas said Alina likely will be the only one in the courtroom supporting her father .
Steve's niece, Nicki Cardenas, of Nevada, said Steve's sister, Patty Leach, and other relatives stand behind Steve. Cardenas remarked to the Salt Lake Tribune in March 2011:
"We are a family of very limited means financially and we would love to rally around Steve, but he understands that none of us can afford to do it. I have spoken with Steve … and told him I love him and he knows I am hoping for the best outcome so he can get back to his life, whatever is left of it!"
Steven is

Convicted of Voyeurism charges
:
"I have been going nuts and nearly out of control sexually my entire life,"
Steven
Powell
faces 14 counts of voyeurism. He was also initially charged with child pornography; however, the charge was dropped Monday.
Susan
Cox
Powell
is presumed dead, apparently at the hands of her husband,
Josh Powell
, who was Steve
Powell's
son. The man insisted that Susan's old journal was
evidence of her alleged instability
yet he has admitted to being "nearly out of control sexually my entire
life" in his own diary.
According to the state's trial memorandum, the defendant is a "prolific journal writer, hand writing over 2,000 pages worth of journal entries" from as early as 2003.In those pages, Steve Powell "admits to being (a) voyeur and recording 'women of every age,'" investigators said, and said he "likes taking photos of pretty girls in short skirts, beautiful women of every age" for "self-stimulation." Steve Powell also wrote he "had been stalking Susan and had been taking secret video of her" and added he "is a voyeur and she (Susan Cox Powell) an exhibitionist, and they are a perfect match,"' the document said. His journal entries detailed how he fashioned a mirror to fit under the door in order to watch his daughter-in-law in the bathroom. In 2004, he wrote he was "90 percent sure she knew" he was watching, but in later entries expressed doubt that she knew..."I have been going nuts and nearly out of control sexually my entire life," he wrote. ...
The Salt Lake Tribune found many who had known Steve declined to be interviewed as they did not want to be linked with him. Others wonder if they really knew him as one remarked. "The more information that comes out, the more unbelievable it seems. Did I ever know this person at all? Or was he a total criminal mastermind?"
website:
http://stevechantrey.com/Pages/Default.aspx
musician biography http://stevechantrey.com/Pages/About/MeetSteve.aspx
song lyrics made for Susan http://www.justicequest.net/forums/showthread.php?t=55475
religion:
Deseret News:
Sins of the father: Steven Powell's behavior leaves a legacy of harm
Keywords:
Children

Jennifer 1974

Joshua, was born in 1976. Johnny followed in 1977; Michael in 1982 and the youngest, Alina, in 1985.

Conspiracy Theorist
Convicted
Divorce
Grandfather
Father-In-Law
Mormon
ex-Mormon
Polygamy - asked Terrica what she would think of another wife
Pornography
Topaz Mountains - seen with Josh by witness not dressed for outdoors or looking for crystals
Washington Department of Correctins - job as delivery driver until arrest in 2011
Articles:
This editorial will appear in Friday's print edition.
Steven Powell's conviction on 14 counts of voyeurism Wednesday should give police plenty of time – as he sits in prison – to explore his possible involvement in the disappearance of his daughter-in-law, Susan Powell.
His role in the corruption of her husband, who burned their two sons to death in February, is already obvious.
Josh Powell had a penchant for pornography and a tendency to demean and menace his wife, as Susan's emails and other surviving documents have made clear. His murder of the two young boys doesn't prove that he killed their mother, but it does prove that he was capable of worse. At the very least, one could say that Josh was not a paragon of respect for women.
Like father, like son.
Steve Powell a puzzle to friends, family who watched changes
First published May 05 2012 06:47PM
Updated May 7, 2012 03:23PM
Throughout his life, Steven Craig Powell has played convincing roles on the stage of public opinion: the doting husband and father, the songwriter inspired by a rocky childhood, the friendly neighbor ready to lend a hand, the seasoned salesman.
Yet those who have known the 62-year-old father-in-law of missing West Valley City woman Susan Cox Powell best say they also have witnessed a darker spectrum of behavior in a snide antagonist who tells crude jokes in front of his children and relishes both pornography and the opportunity to preach anti-Mormon sentiment.
Deseret News:
Sins of the father: Steven Powell's behavior leaves a legacy of harm
six weeks after Susan vanished....Jennifer Graves was headed to Washington state to confront him herself at the home of her father and get a confession. But Josh remained silent. Her father Steven Powell did not. "Oh, it wasn't good. At one point he let out this string of swear words. And my husband was there with me, and holding it together pretty well. And we knew going in that it was probably going to be tense because I went in there for that reason," Graves said.