Demons and Saints: Murder of Josh and Susan Powell Family
Previously, Josh Powell prepares a very, very late "knockout" pancake breakfast which makes Susan feel very tired and go to bed for a nap. Josh takes the boys sledding before cleaning the rug (or couch) or maybe she cleaned the rug, and deciding to do a midnight camping trip, which Susan approved, for which he had bought a generator and electric heater.
Gone Sledding
After Susan Powell had taken a nap, and Josh was done with taking the boys sledding. A neighbor saw him drive back in his minivan at 8:30 PM. (hmmm, in that search of his house, did they even find a sled in the house? Is there even a hill in the neighborhood that is good for sledding?) he (probably) put the boys to bed.
Susan and the Boys Are Sleeping
Midnight was approaching, and it was Sunday night. On any other sunday night, Josh would go to bed with Susan. Both Josh and
Susan had to be at work the next day, and and drop off the boys at daycare in the morning.
But for some unexplained reason,
Josh decided just before midnight that it would be a really good time to take the boys on a midnight camping trip in subfreezing temperatures in dead of winter. There was also a dangerous snow storm that night, but evidently he didn't know or care. He would later explain that he must have been confused what day of the week it was since he didn't go to church that Sunday morning. Neither did he notice that Susan had taken the boys and walked back from church that day, as Josh would often try to discourage the boys from going to church with their mother.
Who cleaned the rug?
Sometime that night, somebody definitely decided to clean a giant red stain in the living room. Now neither Susan nor her visitor said anything about a big stain that needed to be cleaned that night, but according to Josh Susan insisted on cleaning a big red stain, then moving the couch over the stain, and set up two big box fans to dry out the carpet, all this after her tiring nap and before Josh took the boys out on their trip. The last time Josh says he saw Susan she was getting ready to go to bed again after cleaning the rug.
http://www.fox13now.com/news/kstu-josh-powell-psychologist-josh-powell-had-adjustment-disorder-narcissistic-personality-disorder-20120219,0,5021310.story
Josh's story has holes big enough to climb through.
Now, the RED stain on the carpet that Susan stayed home to clean becomes a stained couch that Josh cleaned before he went camping.
ther reports note that Susan went to bed after dinner b/c she became sick at dinner. But Josh says here Susan was going to go to bed and let him take the kids camping. And she agreed to shovel the snow, even though she was ill?
It's Midnight - Impromptu Camping Trip Time!
Late that night, after he says Susan had gone to bed, Josh instead woke up
the boys, 2 and 4, up from their sound sleep as they had already been sledding from 5 pm to 8 pm that night. As he later explained to news crews, he thought it was an excellent time to
"to do smores".
At 11:45PM, neighbor Marco Bastidas and his wife noticed that a car alarm was going off WAAH WAAH WAAH in the Powell's garage for a couple of minutes. At first Marco thought of checking to make sure everything was okay, but his wife was confident that they would certainly hear it in the house, and in any case the noise stopped. Some would later speculate if something was up with Susan that could have tripped the emergency alarm, though her car cars were later found in the house if she were to use it as a panic signal. Police would later investigate why this alarm went off .
Pony Express Trail
All available evidence is that Josh really did pack his boys in the van, and they did drive some distance away somewhere that night. However contrary to Josh's recollection that Susan was home when they left the house, as the boys would later tell teachers, the boys seem to remember that their mother was also along for the ride "in the trunk". Susan's keys and cell phone stayed in the house where they were later found, but the family only had one car. If Susan were to leave the house, she could not drive her own car, she would have to leave on foot and either call for a taxi or be picked up by someone she knew, but no one anywhere has seen her since, certainly no taxi driver and no one who she knew. The boys would also gesture at a woman's chest and say "oweee", suggesting that perhaps they had seen a woman like her mother with some sort of a serious injury. Could it be an injury serious enough to leave a large stain on the living room carpet that needed to be cleaned and dried? Nobody knows.
With Josh's death, nobody really knows just where Josh took his boys that night in the family minivan (except possibly Josh's father Steven who he was very close to who isn't now and may never tell what he knows) Josh later told people that he took the boys to the

Simpson Springs Recreation Area. Google maps says that the

Simpson Springs Campground is about a 3 hours drive from West Valley, and any parent who has tried driving any distance what chore it is to take a long road trip with boys. It would be even more difficult in the middle of the night where most places with bathroom facilities or snacks would be closed. There isn't any indication that he packed food or drink for the long night's drive. In another interview, he said the destination was the
Pony Express Trail which is a National Historic Trail which crosses Utah on the original Pony Express route, ru

nning past the Simpson Springs Campground. The area is in

remote Tooele County. Josh said that the family slept in the minivan, but with 3 hours driving out, and 3 hours back, not counting the time it would take to "take care of Susan", Josh would have had little time to sleep.
Police would later search the
Topaz mountain area, near the site of a WWII Japanese American internment camp. This a remote area just 30 miles from where Josh Powell told authorities he took his boys camping. Police and friends knew that Josh Powell like to hunt for gems and that Josh had taken his family to the area before.
Another report is
Josh "took them camping around midnight to a campsite about two hours away.
" (1)
The national recreation area offers these stark warnings: which makes one wonder about the fitness of a father would would risk his children under these conditions as "Roads in the Utah west desert can become impassable during inclement weather" and there is nobody to help in the middle of the night should the van break down, run out of gas, or get stuck in the snow.. But given his final act of childcare, maybe it's not surprising afterall:
To follow the Pony Express Trail, head west from the town of Fairfield (located west of Utah Lake) through Faust, over Lookout Pass, to Simpson Springs, and then on to Fish Springs. From here, the road then continues west to Callao, thru Overland Canyon, and on into the bucolic town of Ibapah.
There are no services along this 133-mile byway. Cell phone coverage is spotty at best
. Allow five to six hours travel time with interpretive stops.
Road Conditions:
The first five miles and the last two miles of this "trail" are asphalt. In between lie 126 miles of maintained gravel and dirt road. The route is open throughout the year; however, the best and safest seasons for travel are spring and fall. There are no vehicle restrictions, but proceed with caution.
Make sure you have adequate fuel and spare tires as there are no services available.
During good weather, high-clearance two-wheel drive vehicles are adequate for traveling the route.
However, four-wheel drive and/or chains are recommended after heavy rain or snow. Roads in the Utah west desert can become impassable during inclement weather.
The 1994 television movie The Jim and Jennifer Stolpa Story was based on the saga of
Jim and Jennifer Stolpa and their infant son Clayton are 500 miles from their home in Castro Valley, California, when they lose their way and are stranded in an endless wilderness of deep snow in northern Nevada, east of Cedarville, CA. They battle for survival against the elements when Jim Stolpa drives too far down a snow covered road and gets stuck during a snowstorm. Using only meager supplies and resourcefulness, the young couple struggles to keep themselves and their son alive in a frozen shelter while awaiting rescue. Realizing they will not be found and out of supplies, Jim ultimately strikes out on a courageous 50-mile walk through the snow alone, determined to reach help and return to save his loved ones before they die.
Ultimately, Josh's actions in the snow were a good deal less heroic. Josh later "
refused to speak in further detail with investigators who want him to take them to the exact spot he went camping, according to a police spokesman. "
Mommy Is In The Trunk, In a Mine Looking For Crystals, Oweee
The boys didn't remember much but Susan's sister Denise

speculates that Josh Powell drugged his sister before her death so that she didn't look unnatural when Josh evidently loaded their mother into the trunk through the back hatch instead of her normal "shotgun" front passenger seat. when he drove her and the boys to the desert. She thinks that Josh told the boys t

hey were going to go look for mines

, and must have killed her had hid or buried her somewhere out there. Susan's parents Chuck and Judy say that the

boys later started talking about "how

their mother went into a mine to look for crystals and never came out."
http://gma.yahoo.com/josh-powell-tragedy-son-said-mom-trunk-car-101439949--abc-news.html
Attorney Steve Downing told the Associated Press that Braden and Charles Powell, who were 2 and 4 at the time of Susan Powell's disappearance, were beginning to tell their grandparents details about the night that their father took them on a late-night camping trip during a blizzard, including the fact that their mother disappeared after leaving in the car with their father. "They were beginning to verbalize more," Downing said.
"The oldest boy talked about that they went camping and that mommy was in the trunk. Mom and dad got out of the car and mom disappeared.
(sister) Denise Cox speculates that Josh Powell drugged his sister before her death.
"I believe he drugged her so it didn't seem unnatural for the boys when he took her," she said.
"I believe he told them that t
hey were going to go look for mines and I believe he buried her somewhere out wherever he went."
Cox said from what she gathers from her parents, the Powell boys had been talking about how
their mother went into a mine to look for crystals and never came out.
One of Susan Powell's sons drew a picture of her in the trunk of the family car with father Josh Powell at the steering wheel, according to Susan's father and a family attorney. In interviews with PEOPLE, Powell's dad Chuck Cox said he believed it was younger son Braden who drew the picture, while lawyer Steve Downing said it was older son Charlie.
Powell Minivan Seen In the Desert Snow
Nobody since has mentioned that his minivan stopped anywhere with people during that night, nor did anyone see them at any campground in the snow storm, though one man claimed to have seen their van in the snow that night. Many people have died when they found themselves stranded in a car in the freezing cold, but Josh was prepared with a "heater and a generator".
Later a Facebook post claimed there was a man who saw the Powell minivan out in the desert in the snow. The man in the van was trying to avoid having direct contact with his truck as the van would turn on its highbeems when his truck got too close. He had heard reports Josh could have poisoned Susan and taken her out that night with her boys, and that the boys may have told police that Susan was with them camping, but sleeping. But he was getting harassed with so many emails (perhaps from Powell trolls?) that he had to delete the post to make them go away.
http://i864.photobucket.com/albums/ab204/JoshPowellBankruptcy/carlajeanpagemartymarchantfacebo-2.jpg CONTINUED AT SOURCE (Facebook group "susan powell part 2" - Membership to view required): http://www.facebook.com/group.php?gid=250373031438&ref=ts
Josh Blue Cap Interview Explains All
Here is how Josh describes the pleasant camping trip to the local TV station in his infamous "blue cap" interview
Chris Jones: What can you tell us about that night? From what we understand you went camping and then came home. Tell us what happened that night?
Josh Powell: Yeah, I just, a lot of times I just go camping with my boys. Nothing big, we just go overnight and we do S'mores and stuff like that. And so I just went with the boys and was planning to do some S'Mores in the morning and then when we got home, um, well on the way home I found out that people were worried about us that we were missing.
Chris Jones: The report is that neither you nor your wife called in sick and they said that's not usual. What are your thoughts on that?
Josh Powell: No, it's not usual. I ….
Chris Jones: Why didn't you call in sick?
Josh Powell: You know, I somehow was thinking it was Sunday. I didn't go to church and I just missed a day and thought we'd come back Sunday.
Chris Jones: So you got confused on what day it was?
Josh Powell: Yeah.
Chris Jones: Now, from what we understand there's nothing, it appears there's no foul play in the home. It appears
your wife left her cell phone and purse.
Do you have any idea … I mean, does she go off to clear head? Do you have any idea where she could be?
Josh Powell: No, she'll leave during the day but she's never left overnight.
Chris Jones: Does she have any enemies you can think of?
Josh Powell: No, I can't think of anyone.
Chris Jones: Now there's been a lot of talk on the Internet. Obviously in cases like this you, and you know this, that t
hey talk about the husband, that he did something. Do you want to address that?
Josh Powell: I didn't do anything. I mean, I don't know where she's at. I don't even know where to start looking.
Chris Jones: And the boys, what do you tell them about their mom?
Josh Powell
: I haven't told them anything
. I mean, they've overheard stuff. By the time it all started I was already, it was already late and we went to bed.
Chris Jones: Now your wife laid down that night, she wasn't feeling well. That's when you went camping, right? Where did you guys go camping?
Josh Powell: She wasn't not feeling well. She was feeling well but she just went to bed.
Chris Jones: About 5ish? Is that what we heard? We heard 5, you'd know better than we would.
Josh Powell: No, she went to be that night.
Chris Jones: And what time did you go camping would you say?
Josh Powell: You know,
I got out to a pretty late start.
Chris Jones: 9ish, something like that?
Josh Powell: No, it was later
. Basically, I'm ju
st trying to figure out what I can do and both try to find her and take care of life in general.
Chris Jones: Where did you guys camp?
Josh Powell: We went down south to some trails down there.
Chris Jones: Do you mean like Moab?
Josh Powell: No, no, we, um, we actually just went down to the Pony Express.
Chris Jones: Pony Express Trail?
Josh Powell: Yeah.
Chris Jones: Are there campgrounds down there?
Josh Powell: I, guess I better go.
Good luck to you, we appreciate your time.
Josh put up a picture of the family camping in the snow on susanpowell.or g
It reminds me of the photo on his website early on that showed the family in front of a fire in the snow.
from
http://www.deseretnews.com/article/700012833/Josh-Powell-apparently-starts-Web-site-for-finding-Susan-Powell.html
Theory that photo was created for propoganda purposes
http://www.websleuths.com/forums/showthread.php?p=4871713
I know most of us here already believe that the image on the homepage is "shopped." I just wanted to point out why I do not believe that the fire is real.
Here is why-
To me, it looks like the fire was added to a family photo specifically to verify that they indeed did go camping and have fires in the snow. I believe that the original photo probably looked something like this -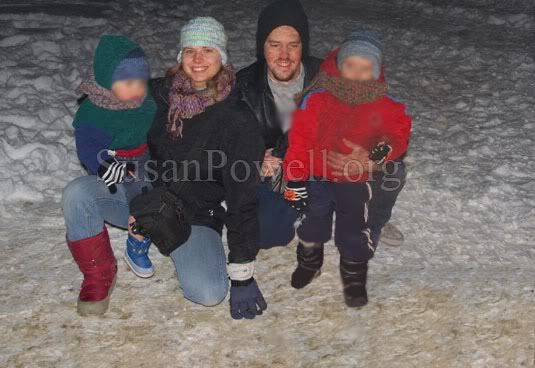 (note- I just did this in Photoshop in about 10 minutes, so it isn't perfect... but you get the idea)
The image was probably taken by a friend or family member. The flames just came later to verify Josh's story. Typically when the average person takes a photo of someone's family they will center the family in the photo. However, when viewing a photo, or doing graphic design, the mind tends to like things that fall on thirds. Any simple photo editing class will teach this. A simple way to make a photo interesting is to crop an image so the focal point lands on an imaginary line drawn on a third of an image... Maybe JP's enthusiasm for photography has given him away here...
*cough* Notice the fire lands on the right third of the image...
One other thing worth noting is the image name. If you view the page source (CTL + U in firefox) you will see that the image name for the photo is "JoshSusanPowellFamilyWinterCampfire.jpg." Now if I were saving a photo I would just save it as "FamilyCamping" or something like that. Instead, JP or someone working with him on the site has made sure to use keywords like "Josh, Susan, Powell, Campfire." Being involved in web development I can tell you there is really only one reason why you would be so specific, and that is search engine optimization. This means that when google or yahoo index the site and collect all the info that will be used when people search they will now have an image to display any time someone searches "Josh Powell Camping" or any of the included words. The point I am trying to make is... JP really wants people to see that picture, so he has made it as accessible as possible.
Nobody would believe Josh's tale except perhaps his brother, sisters, and father, at least to the public and internet "trolls" who sympathized or were them. Privately, many observers and commenters were nearly certain that Steven Powell knew what really happened and could have had a hand in planning the murder of Susan Powell. Steven would later write a crazily fanciful account of how Susan MIGHT have gotten involved with another man who disappeared that she had never met, perhaps got pregnant, got a passport Josh did not know about and disappear in Brazil which evidently has nobody who has even heard of Susan since a Rio Times website search does not show any articles on either Josh or Suan. Chuck Cox was later told by the West Valley police that they never believed Josh's story, though the press never or only rarely mentioned the possibility that Josh had simply made up the Worst Cover Story Ever.
Josh's psychological report gives yet another account that is was only 40 miles from home: (2)
"

New documents released Friday reveal much more about Josh Powell...

also reveal for the first time Powell's own detailed description of the camping trip he said he took on the night his wife, Susan, disappeared in December 2009."
He said he decided to
go camping with the boys around midnight. He said he went to the Pony
Express Trail in the desert about 40 miles away from his West Valley
home and built a fire and let the fire smolder while the children
played. He also brought a small generator to power the electric heater
he brought along "to keep everybody warm," the documents state.
In a followup phone call between Powell
and Manley, the psychologist, Powell clarified that his wife was "OK
with it," referring to taking the boys camping. He said her biggest
concern was that the boys stay warm.
Notes
(2)
http://www.justice4caylee.org/t18115p15-charlie-braden-powell-6-yo-4-yo-graham-wa
http://www.deseretnews.com/article/865550403/Documents-reveal-disturbing-influence-Josh-Powell-had-on-his-children.html
ocuments reveal disturbing influence Josh Powell had on his children
Young boys reflect father's anti-Mormon views By Pat Reavy and Wendy Leonard, Deseret News
Saturday, Feb. 18 2012