The F-86 was America's air superiority fighter over Korea
MiG Ambush at Thanh Hoa Bridge
Based on content from Wikipedia, the free encyclopedia
Russia supplied North Korea with its best Mig -15 jets and pilots
Americans are familiar with the lore of how Viet Cong guerillas in pajamas defeated the might American army (actually it didn't quite happen that way). A less familiar story is the pivotal air battle above the Thanh Hoa "Dragons' Jaw" bridge in 1965 in which America's first shocking defeat in the air war over Vietnam changed supersonic jet combat forever. The North American P-51 eventually won the skies over Germany. At the end of 1950, Americans were shocked by the appearance of the Soviet swept-wing Mig-15, often with seasoned Russian pilots. It was their most advanced fighter which was 100 mph faster than the F-80 Shooting Star and flew rings around every straight-winged jet they had. Only by hurriedly shipping in their own most-advanced swept-wing F-86 Sabre (essentially a rework of the FJ-1 Fury which was a jet-engined P-51Mustang) did the USAF eventually rack up a claimed 10:1 kill ratio.
F-100 Super Sabre

Since then, America had developed two generations of "Century Series" of supersonic fighters. The F-100 Super Sabre was an F-86 beefed up to speeds making it America's first Mach 1+ supersonic daylight fighter-bomber. It was armed with cannon and Sidewinder missles, comparable to the MiG-19 with a big wing for dogfighting.
The F-105 was a sleek giant brute, America's largest single engine fighter which was as fast as the MiG-21 any modern Mach 2 fighter. It was optimized to swoop in at low level in any weather at low level to deliver an internal nuclear weapon, but could also lug up to 15,000 lbs of bombs or typical 4,000 lb load at long range like the WWII B-17 bomber. For that mission, it had tiny stub wings that made it a bear to turn, but it could be a secondary dogfighter for self defence as it retained the potent M-61 Gatling Gun 20mm cannon, and could carry a pair Sidewinder missles if it wasn't tasked as a bomber. Bombed up, it was sitting duck, but in the early days, the "Thud" as it was affectionately known for the sound one made if it fell from the sky accounted for most MiG kills, and even ended the war with a slightly better than 1:1 kill ratio. It would deliver the bulk of USAF bombs until the loss of half of the flee. The F-105's purpose-built replacement was the troubled swing-wing F-111, which was a dismal failure as the all-roles for all services fighter, but ultimately did serve in last days of the air war as a specialized Air Force bomber. The Thud would first be escorted and then replaced by the even more legendary F-4 Phantom which wasn't any faster but ultimately proved to actually be the all-role all service fighter sought by Secretary of Defence McNamara.
The U.S. Navy's Sidewinder in the early 1970s

After Korea, jet fighter design moved on to supersonic, then double-sonic speeds. As fighter armament evolved from 50 cal machine guns to 20 mm cannon to rockets, the ultimate development was the Navy's AIM-9 infrared guided Sidewinder short-range and AIM-9 Sparrow medium range radar guided missles, as well as the AIM-4 Falcon favored by Air Force interceptors. Fighters were specialized either as gun-armed daylight fighters like the F-8 Crusader and F-100 Super Sabre, while all-weather interceptors carried larger radar and missles, sometimes in internal bay to shoot down bombers at long range. The Navy's F-4 Phantom was originally proposed with cannon, but was ultimately produced as an interceptor without guns, as was the Air Force F-102 and F-106 interceptors for continental defence.
America's first major air attack against a strategic target was a massive armada of F-105 "Thuds" to deliver bombs and advanced guided Bullpup missles and F-100 "Hun" supersonic jets to dogfight with any MiGs that might show up. Americans intelligence knew they would be opposed by a very small band of inexperienced pilots flying obsolete subsonic MiG-17s, which had been introduced as slightly improved MiG-15s towards the end of the Korean war. While the Soviets provided their very most modern jets and pilots in Korea, by Vietnam it was the best the Russians could spare their ally as faster MiG-19s and MiG-21s would not be available until later years.

Yet aided by ground controllers, the communist pilots were able to bypass the escorts and ambush the F-105s, downing 3 Thuds. They claimed a major victory though they lost 3 of their 4 defending planes in the subsequent dogfight. The most important outcome is that Americans would be forced to rethink tactics, training and even fighter design as the Navy shot down its sophisticated F-111B which could down six bombers at a time 100 miles away, yet lacked even short-range guns or sidewinder missiles to shoot at, much less the performance to dogfight an elderly MiG-17.

It was only after the wars end that the Navy was the first to roll out its purpose-built F-14 Tomcat air-superiority and fleet defence fighter. Unlike the F-111B had to satisfy every imaginable requirement EXCEPT dogfighting, plus Air Force bomber requirements (the Air Force F-111s were eventually was fitted with sidewinders for self-defence), the Tomcat was specifically designed for agility. While the F-4 Phantom was once heralded for doing away with the obsolete canon, and was roundly criticized for lacking a canon over Vietnam, the F-14 and every other fighter afterwards was designed with an internal cannon, along with sidewinder dogfight and sparrow missles, with the same massive bombload as the Phantom, which was used as the "bombcat" late in its career. The Air Force's stopgap answer to the humiliating performance over the Dragon's Jaw was the F-4E Phantom which had maneuver slats and added a M61 Vulcan cannon in its nose, and then the legendary F-15 Eagle which eschewed swing wings and the heavy AWG-9/AIM-54 Phoenix.




The Thanh Hoa Bridge, spanning the

Song Ma

river, is situated 3 miles (4.8 km) northeast of

Thanh Hóa

(
listen

), the capital of

Thanh Hoa province

in

Vietnam

. The Vietnamese gave it the nickname Ham Rong (Dragon's jaw). In 1965 during the

Vietnam war

, it was the objective of many attacks by

US Air Force

and

US Navy

aircraft which would fail to destroy the bridge until 1972. In their first air combat, a small force of seemingly mismatched

MiG-17s

inflicted significant losses on much larger and more advanced American

F-105 Thunderchief

and

F-8 Crusader

fighters at a cost of 3 of their own, with an

F-100 Super Sabre

claiming the first probable American kill of the conflict. This would lead to significant changes in American tactics, training and fighter design, and a return to dogfighting in air combat doctrine. Eventually, in 1972, the bridge was destroyed by

A-7 Corsair

bombers using

laser-guided bombs

and conventional bombs.
Thanh Hoa bridge
Part of the Vietnam War

Thanh Hoa Bridge after it was hit by laser-guided bombs
Belligerents
United States
North Vietnam
Casualties and losses
11 aircraft destroyed
3 MiG-17 (1965) [1
Originally built by the

French

during the colonial era in Vietnam, the Thanh Hoa bridge was sabotaged by the

Viet Minh

in 1945. From 1957, the Vietnamese started rebuilding it.
It was a grey metallic construction, resting on a central concrete pier, and on concrete abutments at each extremity. Completed in 1964, and inaugurated by

Ho Chi Minh

himself, the final bridge was 540 feet (160 m) long, 56 feet (17 m) wide, and about 50 feet (15 m) above the river.
Allowing the passage of both road and rail traffic, it was a vital link between different regions of North Vietnam, and when the war started, became a strategic passage for supplies and reinforcements sent to the

Viet Cong

fighting in

South Vietnam

.
[

edit

]
Operation Rolling Thunder
With the beginning of

Operation Rolling Thunder

(the bombing campaign against strategic targets in North Vietnam), the decision was made in March 1965 to interdict the North Vietnamese rail system, including the Thanh Hóa bridge. The Vietnamese, realizing the importance of the bridge, had set up an impressive air defense network, five air defense regiments being stationed in the area.
416th TFS F-100Ds at Da Nang, 1965.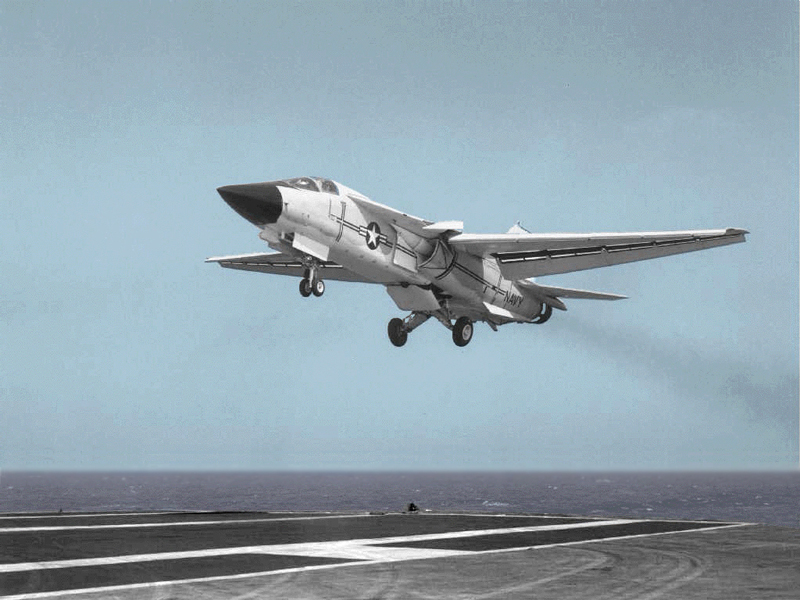 Ill-fated F-111B Naval TFX was basically shot down by the elderly MiG-17 which it could not dogfight
F-14 was America's first purpose-built dogfighter in response to Mig-17s